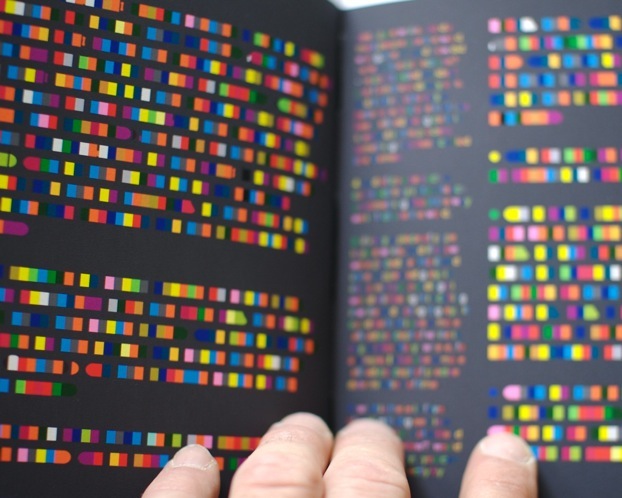 On the artist?s proof, I have intentionally ?glossed? the work with the translation of the color text on the left column of the book. Although this gives the reader greater accessibility to the work by providing a ?key?, I feel that it detracts from the overall effect of the book by removing the validity of the color text to stand on its own.
(original handmade artists book based on the text "Remarks on Color*" by Ludwig Wittgenstein)
*Wittgenstein, Ludwig. Remarks on Colour, Trans. Linda L. McAlister, Margarete Schättle. Berkeley: University of California Press, 1977.
PDF of Part One of the book at: http://www.christianfaur.com/fiber/remarksOnColour/remarksOnColour_Ex.pdf
Because of my great admiration for the work of Wittgenstein, I have decided to translate his thoughts on colour into color.
The printed version of this text measures 8 inches wide by 5 inches tall and is hard-bound, hand-sewn, and printed on archival paper with fade resistant pigmented inks.
I have produced a limited edition series of 5 of these artist books.